The past 3 years have been particularly humbling for me as a parent. Gone are the days when my kiss heals a boo-boo, or an extra-early bedtime fixes most things. My kids have struggles I can't lift from their shoulders, and I see in so many ways how my own good intentions went wrong in the execution.
But the past month or two, a few things have turned around, and I feel like we're moving in the right direction. Perhaps I am more tuned in to small victories. With that in mind, for the rest of January I'm going to share a few of our celebrations.
One: Hard work pays off.
A million years ago (in the last decade, at least), one of my kids was in the Cub Scouts. My recollection is that we, as parents, put in a ton of volunteer time, and my kid had zero motivation to do any of the activities. He just wanted to hang out with his friends. The boys got badges for attending the mostly passive activities the parents put on, and my kid was more or less a sponge. I wanted some sort of activity to demonstrate to him the power of hard work.
When the Pinewood Derby came along, I thought it would be the perfect vehicle to show him how important hard work was. The troop had a marathon session to design and build the cars, and our kid showed up, cut a triangle out of wood with the assistance of a grown-up, and slapped some wheels on a chunk of wood. The most interesting part to him was painting it. I was sure that his car, though shiny, would come in last, and he would learn the valuable lesson that hard work counts.
His car won the Derby. He happily accepted the shiny trophy and learned nothing about hard work.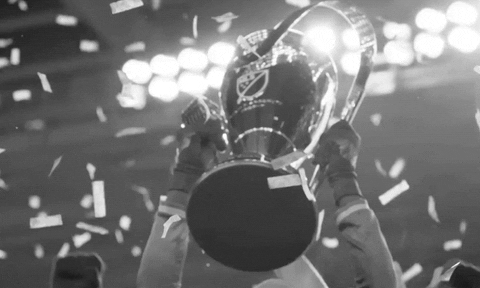 Fast forward many years. I have watched my kids grow up in a culture that rewards even reluctant participation, and I wonder what we've taught this generation. As my kids have gotten older, each one of them has encountered the jump in expectations, where the "it's enough to participate" suddenly turns into, "only the best players get time on the court." It has shocked each one of them and has ended many activities. I wonder if there's a place for a more gradual transition, but I don't see it happening.
As a homeschooling parent, I have gone too far the other way. When they get an A on an exam I know they didn't study for, I find it hard to respond. I have erred on the side of calling out their hard work ("I see how hard you studied. Great job"), instead of congratulating them on results ("You got an A! Well done.")  All the parenting articles told me this was the way to go. My kids tell me the message they heard through my praise is, "What you do is never enough for me."
Anyway, you see my dilemma. Recently I've been trying to shut my mouth and let the consequences of their actions alone give my kids the feedback they need. Jury's out on what will happen.
My daughter routinely spends nine or ten hours a week in dance classes and rehearsals, but gone are the days when showing up to class means you get more than a minor part in the performance. It's now about auditions and turn-out and strength and lines. She was sorely disappointed in August not to move up in ballet with some of her friends, and not to get the part she wanted in the Nutcracker.
After some moping, she sought out a new pointe shoe fitter. I had my doubts, but he was great. He acknowledged both her strengths and weaknesses and took a completely different approach than the previous fitter. He gave her exercises to work on her turnout, and she has faithfully done these every day. She has set up to barter as a teacher's assistant with the littlest dancers in order to attend an additional ballet class (!) every week.
Last night at class, her teacher said she's noticed her progress and is going to advance her. My daughter was so excited to tell me, she was dancing. That's feedback I can get behind.
This is only one take- more to come if I can keep my gratitude glasses on my face. Check out Kelly for more quick takes.